Premiere: Das scharlachrote Kraftfeld
Wir schreiben das Jahr MMDCCXLI. Die leichte Panzerfregatte "Erzherzog Ferdinand Max" (Tegetthoff-Klasse), das offizielle Kurierschiff des k.u.k. Interstellar-Regiments Hoch- und Deutschmeister Nummero 4, ist auf dem Weg in die Tiefen des Weltalls. Es handelt sich lediglich um eine Routinemission in ein unbewohntes Sternensystem an der Peripherie der Vielvölkergalaxie: Ein Geiselaustausch mit unterversorgten und schlecht ausgestatteten Raumkorsaren soll abgewickelt werden. Ein weiteres Puzzlestück in der transgalaktischen Appeasement-Politik der Monarchie. Als die "Erzherzog Ferdinand Max" in der entmilitarisierten Meteoriten-Zone auf das Korsarenschiff "Erzherzog Johann" trifft, scheint alles noch nach Plan zu laufen. Aber k.u.k. Kapitänin Silvana, Baronin von Montecuccoli, hat ein schlechtes Bauchgefühl.
Das KOMM.ST-Theaterkollektiv schickt heuer zwei Raumschiffe ins All und veranstaltet eine Science Fiction-Horror-Space-Opera, in der Raum, Zeit und menschliche Dramen mehr als relativ sind. In viribus unitis, Energie!
Premiere im Rahmen des komm:st Festivals. Am Samstag, 18. Mai 2019, 18:30, Gasthaus Stixpeter, Unterfeistritz 17, Floing.
Weitere Termine: 19.Mai 2019 Cafe Luis, 20.Mai Zetzboch Stüberl, 21.Mai Obstbau Wilhelm. Und Januar 2020 in Wien.

Link
by monochrom, 2019-05-13
---
Diametrale: "Glossary of Broken Dreams" in Innsbruck
monochroms Mastermind Johannes Grenzfurthners zeigt seinen Film "Glossary of Broken Dreams" in Innsbruck, im Rahmen der Diametrale. Der Regisseur ist anwesend und beantwortet Fragen.
Am 12. April 2019, 16 Uhr, im Leokino, Anichstraße 36, Innsbruck.

Link
by monochrom, 2019-04-08
---
Kiki and Bubu: Rated R Us im Sexkino
2017 gab es eine wunderbare Ausstellung "Sex in Wien" im Wien Museum. Sie erwähnte auch das Fortuna Kino, neben dem Kino Breitensee eines der ältesten erhaltenen Kinos der Welt. Es sicherte sein Überleben auf der Favoritenstraße durch die Wandlung zum Sexkino. Seitdem es über die U1 Station Troststraße sehr gut erreichbar ist, macht es eine Wandlung durch. Es wurde komplett im Originalzustand wiederhergestellt und nach dem Wiener Prostitutionsgesetz zertifiziert. Jeden dritten Samstag im Monat wandelt sich das Kino zu dem Kino, das es einmal war und zeigt Klassiker im musealen Ambiente. Im Rahmen des Porn Film Festival Vienna 2019 zeigen wir unsere philosophischen Sockpuppets Kiki und Bubu im Film Rated'R'Us.
Samstag, 6. April 2019, ab 17:00 Uhr, im Fortuna Kino, Favoritenstraße 147, 1100 Wien. Karten direkt im Kino.
by monochrom, 2019-04-06
---
Ausstellung von monochroms Sexmaschinen
NEKROPNEUM FUCKENBRUST NECKHAMMER 40k (2019, monochrom feat. Thomas Kranabetter und Christian Schüler) ist eine polysexuelle Maschine von Lust und Horror. Ein Torso, der keine Wünsche unerfüllt lässt und Alpträume produziert. Oder wie Salman Rushdie sagt: "Scham und Schande sind wie alles andere auch. Lebe lang genug damit und es wird Teil der Einrichtung."
PROSTATE HERO (2018, Thomas Kranabetter) zeigt uns ein userinterface für eine Cocktailmaschine, wie sie nicht menschlicher sein könnte: Ekel, Geilheit, Spiel und Intoxination hat man mit diesem Gerät buchstäblich immer zur Hand. Wer den Dreh raus hat, wird belohnt. Mit Alkohol.
Beide Maschinen sind an der den Abend begleitenden Ausstellung in der Schwelle 7 zu sehen.
Am Freitag, 5. April 2019, ab 21:00 Uhr in der Schwelle Wien, Tellgasse 25, 1150 Wien.
Bitte den Dresscode zu beachten.
mehr: Link
by monochrom, 2019-04-04
---
Screw the System: power and pornography Category: Lecture & Discussion
Sex ist die wohl intimste und gleichzeitig politische Interaktionsform der Menschheit. Als sexuelle, technologische, narrative und politische Wesen haben wir auch sexuelle Präferenzen, die wir aktiv oder passiv umzusetzen suchen. Wie, wann und in welcher Form hängt wesentlich vom sozialen Kontext ab. Pornographie, die wohl wundersamste Form kommerzieller Kunst, erinnert uns an das feste Machtgefüge, in dem wir alle verstrickt sind. Abseits des pornographischen Inhalts zeigt sie die tief in unserer Zivilisation eingebetteten Ungleichheiten, die auch unsere Sicht auf Sexualität unterminieren. Die Marxsche Deutung des Kategorischen Imperativs als revolutionärer Auftrag gilt auch für den oft vernachlässigten Bereich sexueller Beziehungen.
In seinem etwa einstündigen, englischsprachigen Vortrag beleuchtet Johannes Grenzfurthner die Frage, wie Pornographie sich selbst und die Menschheit retten könnte.
Am Freitag, 5. April 2019 ab 18:30 im Raum D des MQ Wien. Der Eintritt ist frei.
by monochrom, 2019-04-04
---
Glossary of Broken Dreams: downloade den Film auf Vimeo On Demand
Johannes Grenzfurthner schickt eine wichtige Botschaft...
Endlich! Meine politische Tour-de-farce-Doku Glossary of Broken Dreams kann jetzt endlich auf Vimeo On Demand. Es war eine wunderbare und anstrengende Zeit den Film zu machen -- und viele Umarmungen an alle, die mich unterstützt haben.

Ich hoffe ihr erwägt den Film zu kaufen oder zu mieten.
by Johannes, 2019-01-31
---
'Let's Geek' rezensiert Glossary of Broken Dreams
Glossary of Broken Dreams wurde von Let's Geek besprochen.
This movie should be seen by everyone trying to understand what is going on with the world and this generation. All of those concepts that Johannes explores, and that make our generation tick, are in the end all broken dreams.
by Johannes, 2018-10-21
---
Glossary of Broken Dreams: Semi-Finalist beim Courage Film Festival
SEMI-FINALIST! Glossary of Broken Dreams almost made it to the top... at Courage Film Festival, Berlin.

:-)
by Johannes, 2018-09-21
---
Ray Kinomagazin rezensiert 'Glossary of Broken Dreams'
In der 09/18-Ausgabe des Ray Kinomagazin gibt es eine nette Rezension von Glossary of Broken Dreams von Oliver Stangl. Politisch und derb. Passt!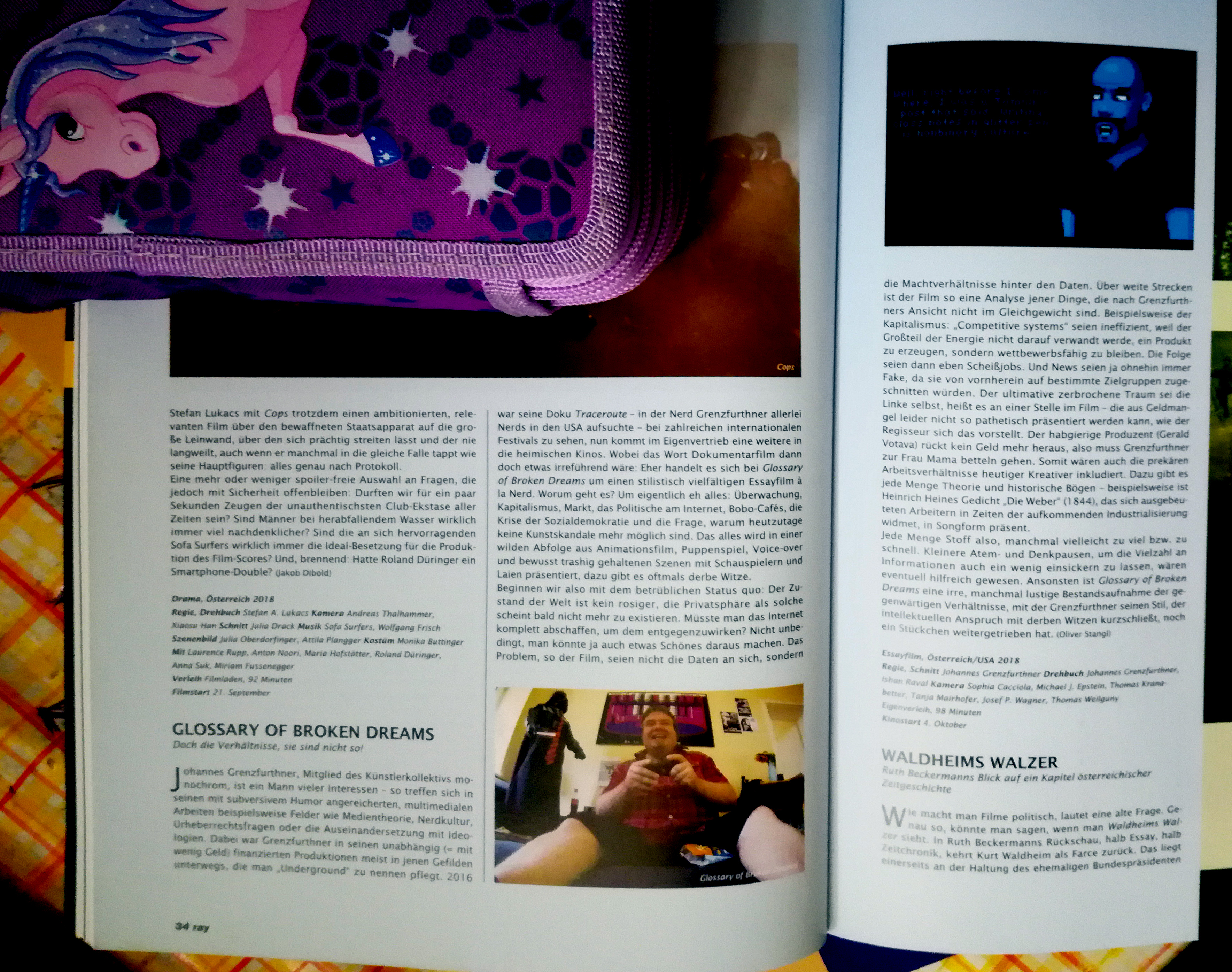 Bitte klicken für Vollauflösung.
by Johannes, 2018-09-04
---
'Glossary of Broken Dreams' gewinnt 'Award of Merit 2018' für Documentary Feature bei den Impact Docs Awards
WINNER! Glossary of Broken Dreams won the 'Award of Merit 2018' for Documentary Feature at Impact Docs Awards.
Geil!

Link
by Johannes, 2018-07-25
---
'Glossary of Broken Dreams' gewinnt 'Best Hacker Film 2018' auf der HOPE Con
WINNER! Glossary of Broken Dreams won BEST HACKER FILM 2018 at HOPE Con.
Sehr leiwand!

Link
by Johannes, 2018-07-23
---
'Glossary of Broken Dreams' gewinnt 'Best Foreign Documentary Feature' bei The Indie Gathering
WINNER! Glossary of Broken Dreams won BEST FOREIGN DOCUMENTARY FEATURE 2018 at The Indie Film Gathering.
Sehr fein!

Link
by Johannes, 2018-07-04
---
Die Hannoversche Allgemeine Zeitung über 'Glossary of Broken Dreams'
Zur Deutschlandpremiere von 'Glossary of Broken Dreams' gibts eine nette Rezi in der Hannoversche Allgemeine Zeitung.
[...] Denn dieses "Glossar der unerfüllten Träume" ist ein Filmessay über gescheiterte Hoffnungen, über die uneingelösten Glücks- und Freiheitsversprechen der jüngeren Menschheitsgeschichte – von Aufklärung und Liberalismus über Kapitalismus und Kommunismus bis hin zu Kunst, Aktivismus und Punk. Er habe damit, erläutert Grenzfurthner, der nicht nur Regisseur und Drehbuchautor, sondern auch zentraler Darsteller dieses irgendwo zwischen Low- und No-Budget finanzierten Streifens ist, einen "politischen Frühjahrsputz der Begriffe" bewerkstelligen wollen. Eine Kritik der Begriffswelten aus dem Glauben heraus, "dass wir es besser machen können", obwohl er auch selbst "Teil des Problems sei", wie der Kopf des Wiener Künstlerkollektivs Monochrom im Interview mit der Online-Plattform Zebrabutter einräumt. Wozu er noch ein "Harharhar!" anfügt.
by Johannes, 2018-05-31
---
Film Inquiry bespricht 'Glossary of Broken Dreams
Der erste richtige Verriss von 'Glossary of Broken Dreams'. [Ein bisserl liberalisch, und (hey!) Sven Shitpornson ist ein Weltschmäh! Pffffff!!]

Link
by Johannes, 2018-05-31
---
At the Golden-Calf Slaughterhouse: ein Interview mit Johannes Grenzfurthner über 'Glossary of Broken Dreams'
Boing Boing veröffentlicht eine englische Version des Interviews, das Thomas Kaestle mit mir für Zebrabutter gemacht hat.
A sprawling interview with artist and filmmaker Johannes Grenzfurthner on his latest movie Glossary of Broken Dreams.

Some two years ago, Thomas Kaestle interviewed Johannes Grenzfurthner, Austrian all-purpose nerd, and founder of monochrom about his then brand-new movie Traceroute. In this jagged autobio road movie the filmmaker journeys through his past as a nerd, artist, activist, and discourse generator. He undertakes a funny, associative pilgrimage through the USA, visiting the sacred sites of his decades-long quest for knowledge to pay homage to the gods of tech- and pop-culture.

Grenzfurthner's new movie, Glossary of Broken Dreams, is a sequel as much as a counter-thesis. Produced with a micro-budget, this monumental mosaic is taking the audience on a ride through an encyclopedia of overused, misconceived, and corrupted concepts and ideas. The fact that it concerns the favorite vocabulary of current discourses, the golden calves of contemporary controversy, makes for a considerably explosive force. With relish, Grenzfurthner is leading them to the slaughter to rummage through their bowels and read in them an uncertain future.

So, Thomas Kaestle sat down with Grenzfurthner again, this time to talk about the deconstruction of concepts and discourses, alleged security within false contexts, societal and political change, the fragmentation of ideological camps, cherished ideas, letting go, Daleks, and Cthulhu.
by Johannes, 2018-05-24
---
The 405 rezensiert 'Glossary of Broken Dreams'
Super Review auf The 405.
It is indeed this cynicism and opportunistic Pop culture references that prove why Glossary of Broken Dreams is a film of its time: hypermodernity is well represented by both its form and context, allowing for a very familiar disenchantment to echo throughout — the more the film advances, the more you realise you're trapped in a loop of needs and wants to which you respond so automatically that you don't even notice your own sense of combativeness itself is being used by the system you claim to position yourself against as a tool of self-propaganda. And the beat goes on — to quote Sonny and Cher — without you having an effective saying in what becomes of your future or your dreams (be them collective or individual), the only soulagement coming from the consolation prize that is being aware of the self-destruction process — part of it, at least.

This is not a militant movie, although I must confess that the image of a random MAGA supporter who happened to stumble upon it shouting "communist propaganda!" as they salivate from the mouth amuses me; after all, Glossary of Broken Dreams lives up to its title and destroys each and every hope of collective redemption — it even questions the ongoing relevance of the Left, deromanticising the last socio-political myth standing.
by Johannes, 2018-05-21
---
Glossary of Broken Dreams: Der Trailer!
by Johannes, 2018-05-09
---
UK Film Review bespricht 'Glossary of Broken Dreams'
Super Rezension von 'Glossary of Broken Dreams' auf UK Film Review.
A highly intelligent and topical film, Glossary of Broken Dreams is an engaging epistemological documentary that will have you chuckling about, choking on, and considering the validity of, your political ideology.

Johannes Grenzfurthner's opening gambit is amusing as he details the moment, when he was four years old, that he fell flat on his face on some concrete by a beach in Italy. The moment taught him that he had a difficult condition – he was 'human': a condition which experiences broken dreams and relies on narratives, metaphors and linguistic shortcuts to convey our 'stories' and it is this that Grenzfurthner compels us to explore and evaluate in his film. He tackles concepts such as 'capitalism', 'privacy' and 'freedom', exploring what that really means through a range of cinematic techniques.

Reminiscent of the 'asides' of Adam McKay's The Big Short, Grenzfurthner utilises images, photos, voice-over, direct address, song, subtitles, animation, archive clips and live music to explore social constructs and their contradictory nature. Topical issues are cross-examined under the lenses of history, politics, philosophy and technology with interesting insights and questions resulting. The film explores the seeming-ridiculousness of campaigns for inequality in a society controlled by capitalism; the nonsense of the uproar around 'fake news' when all news, by its definition and construction is itself fake; and the irony of society's desire for privacy yet its reluctance to do the one thing to protect its privacy – stop sharing. But the film doesn't attempt to convert or pressure its audience into a particular opinion; largely, it offers multiple sides to each argument and raises questions for its audience to consider.
by Johannes, 2018-05-07
---
Zebrabutter: Interview mit Johannes Grenzfurthner über 'Glossary of Broken Dreams'
Ein ausuferndes Gespräch mit dem Filmemacher Johannes Grenzfurthner über seinen neuen Film Glossary of Broken Dreams.
Vor etwas über zwei Jahren sprach zebrabutter-Autor Thomas Kaestle mit dem österreichischen Universalnerd und monochrom-Gründer Johannes Grenzfurthner über dessen damals brandneuen Film Traceroute. In diesem autobiografischen Road-Movie reist der Filmemacher hakenschlagend durch seine Vergangenheit als Nerd, Künstler, Aktivist und Diskursproduzent. Er pilgert assoziativ durch die USA zu heiligen Stätten seines jahrzehntelangen Erkenntnisgewinns und huldigt Göttern der Technik- und Popkultur.

Grenzfurthners neuer Film, Glossary of Broken Dreams, ist Fortsetzung und Gegenthese zugleich. Mit kleinem Budget als Monumental-Puzzle produziert, nimmt er sein Publikum mit durch eine Enzyklopädie abgenutzter, falsch verstandener und korrumpierter Begriffe und Ideen. Brisant wird das durch den Umstand, dass es sich dabei ausgerechnet um das Lieblingsvokabular aktueller Diskurse handelt, um goldene Kälber zeitgenössischer Auseinandersetzungen um Politik und Gesellschaft. Grenzfurthner führt sie lustvoll zur Schlachtbank, um in ihren Gedärmen zu wühlen und daraus eine unsichere Zukunft zu lesen.

Also sprach Thomas Kaestle wieder mit Grenzfurthner, diesmal über Begriffs- und Diskursdekonstruktion, vermeintliche Sicherheit in falsch konstruierten Zusammenhängen, gesellschaftlichen und politischen Wandel, Fragmentarisierung von gedanklichen Lagern, liebgewonnene Ideen, Loslassen, Daleks und Cthulhu.
by Johannes, 2018-04-25
---
Indie Shorts Mag rezensiert 'Glossary of Broken Dreams'
Super Review von 'Glossary of Broken Dreams' im Indie Shorts Mag.
The film promises to be anything but bland. Despite addressing political issues, revolutionary ideas and gently poking at the present culture of lackadaisical, dependent and largely misinformed public/audience, the film delivers its content with class, wit and generous humour.

For those interested in political debates and issues concerning the present world, this film offers not only the view of the contemporary landscape but also of various political origins. Educational, thought-provoking and intensely engaging, Grenzfurthner's Glossary of Broken Dreams isn't for the popcorn munching audience, but for those willing to give a serious thought to present day issues.
by Johannes, 2018-04-13
---